This event has finished
PIE MAKING COURSE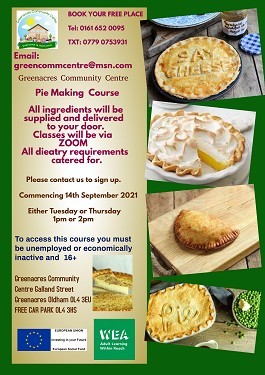 For anyone who loves to bake from scratch. All ingredients will be supplied to your door.
This course is 6 sessions - one a week and zooms last about 1 hour.
You have a choice of Tuesdays 1pm or 2pm OR Thursdays 1pm or 2pm.
Please contact the numbers on the poster or contact us via email to book.
N.B. you must be 16+ and receiving some form of UC or be economically inactive.
Event:
PIE MAKING COURSE
Venue:
Greenacres Community Centre
Address:
Galland Street, Greenacres Oldham
OL4 3EU
Date:
14/09/2021 to 21/10/2021
Start Time:
13:00
End Time:
14:00