This event has finished
Jane & Elaine's Paper Craft Group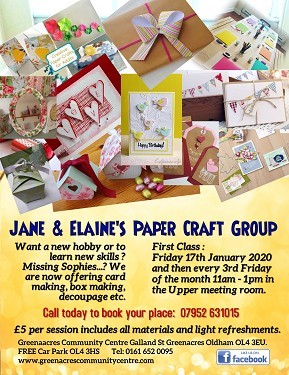 Jane and Elaine have been Paper crafting for many years. They have a wealth of knowlegde and know how. Between them they will share all their skills and knowledge of materials, best places to buy and what products are the most versatile.
As well as all this they would love to meet new people who share their interest in all things paper making...card making, box making , decoupage etc.
Each week they will provide all the materials for that session, and light refreshments, all for only £5 per session per head. In order for them to have enough resources for each session we ask that you contact the centre T: 0161 652 0095 or call the number on the poster T:07952 631015 to book your place.
The group will meet every 3rd Friday of the month, the next session is 21st February 2020, then 20th March and so on .....
All will be made welcome, no matter what ability you are at.
Event:
Jane & Elaine's Paper Craft Group
Venue:
Greenacres Community Centre
Address:
Galland Street, Greenacres Oldham OL4 3EU FREE Car park OL4 3HS
OL4 3EU
Date:
21/02/2020 to 19/06/2020
Start Time:
11:00
End Time:
13:00