National Return to Learning Award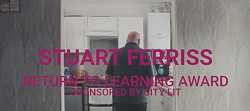 Latest Good News Story:
National Return to Learning Award 2019
Meet our newest employee. Stuart joined us as a volunteer through an introduction by Janet McDonald, programme leader for Oldham Lifelong Learning Service.
Stuart had decided some time ago that he wanted to improve his skills. He was apprehensive at first starting his education again. Stuart is a fully qualified joiner and carpenter, and as always found himself in full time employment. During his time attending Life Long Learning Stuart was made redundant from his school caretaker job that he loved doing and felt very low. Attending his classes kept him going, he had something to look forward to, Stuart mentioned that he would like to use his skills and volunteer for a charity whilst looking for a new position. Janet introduced Stuart to us...
Whilst volunteering at Greenacres Community Centre Stuart made himself invaluable and we decided to look at our own budgets to see how much in previous years we spent on repairs and maintenance and balanced these cost against employing Stuart on a part time basis. We are immensely pleased for Stuart in winning this National Return to Learning Award, and fully support him in achieving all his new goals in his further education.