Oldham Play Action Group
Oldham Play Action Group and Junior Youth Clubs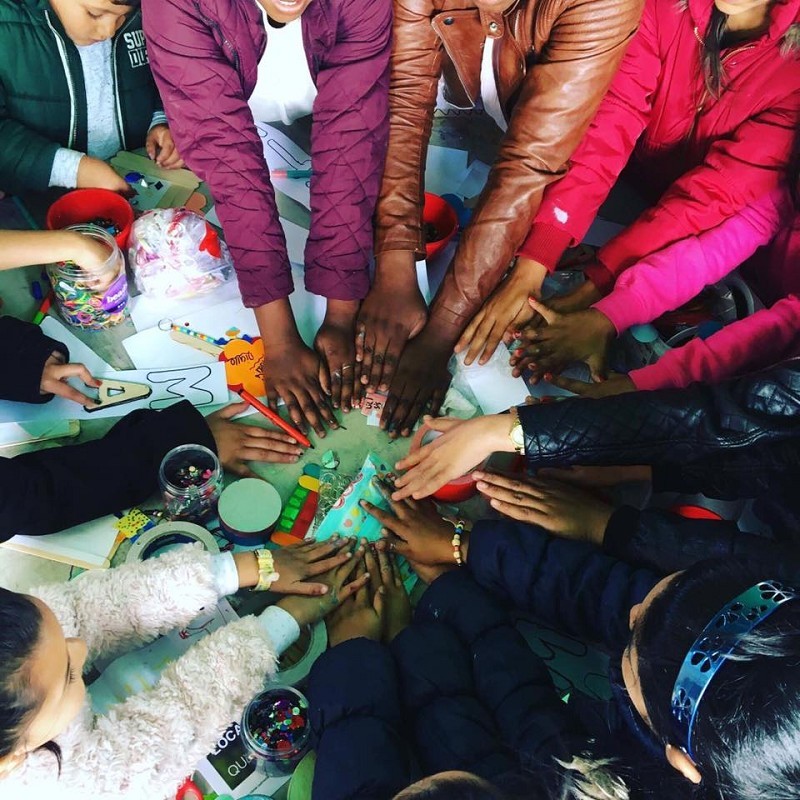 OPAG is committed to providing accessible play opportunities for the development and growth of the child/young person. OPAG has been working with the children of Oldham and their parents since 1977, we have been based at Greenacres Community Centre for over 20 years. OPAG works with communities throughout Oldham and its surrounding boroughs Rochdale and Tameside, to name a few.
We take play opportunities into the local communities, involving the adults, children/ young people with the delivery, whilst at the same time engaging with the children/young people, enabling them to have a free, safe and rewarding play development opportunity.
Every 1st Wednesday of August we facilitate National Playday held in one of Oldham's many beautiful parks, this is a free national festival celebrating play for all.

OPAG works in schools, producing semi or permanent installations, often engaging with the whole school. Workshops can be designed to suit, such as time restrictions, budgets, one large final piece or a build-up of visits that could include art, music and dance with a final show etc. All our staff carry a full enhanced DBS and our Co ordinater would be happy to discuss any specific requirements with you and costs.

OPAG's newest service, 'Visual Minutes' have been a great success seeing commissions from Science Museums, NHS, Planning Departments and Youth Service Teams. 'Visual Minutes' is a piece of art produced as the meeting happens (live). It is a unique permanent picture/recording of what has been discussed, aims, outcomes, attendees and so on.

With secured outside funding, OPAG facilitates junior youth clubs on a weekly basis throughout Oldham. We encourage local people to get involved by volunteering at these sessions. Most go on to develop new skills by attending some of the many training opportunities we offer such as Paediatric First Aid, Food Hygiene, Safeguarding, Face Painting etc. A stronger community bond is developed over time between the volunteers and attendees, some of which come along as children then go on to become young volunteers themselves. All volunteers can rely on OPAG to offer character references and or job opportunities when relevant.

Along with play sessions, art workshops, community celebrations, lantern parades, play streets (street closures) we also deliver consultation with children using specially designed materials specific to that remit.
OPAG deliver/facilitate training opportunities for adults, young people who are interested in working with children.
Our Arts and Craft shop along with our Hire dept is open
Monday, Wednesday and Friday 9am - 3pm. Or by appointment, just give us a call to book.
If you have any questions about the services we provide or think will be able to support your group, (private or residential) or assist you to set up new play projects please contact us on 0161 678 9662 or playactiongroup@hotmail.com
Office hours Monday - Friday 8.30 - 5pm
Shop hours Mon, Wed and Fri 9am - 3pm

OPAG runs at Greenacres Community Centre Fun Family Fridays (every Friday) delivering arts and crafts, cooking by WiFi Northwest and Games and Dance with Suzi's School of Performing Arts. Fridays 5.30 - 7pm. This is a FREE session.
For all junior youth clubs and play sessions, please call or visit our web page.

Don`t forget to visit our Aladdin`s cave of a shop treasures for all to inspire all your creativity. See OPAG's shop group on this web site for more info.

Greenacres Schedule
| | |
| --- | --- |
| Monday To Friday | From 09:00 To 17:00 |