'Stories To Make You Smile'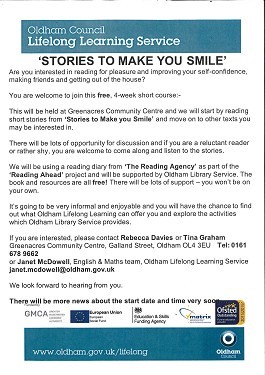 You are welcome to join this FREE, 4 - week short course.
Reading short stories from 'Stories to Make You Smile'
Lots of opportunity for discussion and if you are a reluctant reader or rather shy, you are welcome to come along and listen to the stories.
The book and all resources are FREE!
It's going to be very informal and very enjoyable, and will give you the opportunity to explore more activities on offer.
For more info please contact the community centre via Email: greencommcentre@msn.com or Telephone: 0161 652 0095 and ask for Rebecca Davies or Tina Graham.
N.B please ignore the schedule time and date - Once we have enough people interested we will arrange a time and date.
Event:
'Stories To Make You Smile'
Venue:
Greenacres Community Centre
Address:
Galland Street, Greenacres Oldham
FREE car park OL4 3HS
OL4 3EU
Date:
17/08/2021 to 29/10/2021
Start Time:
10:00
End Time:
12:00